12-Pak
Talk

0
264pages on
this wiki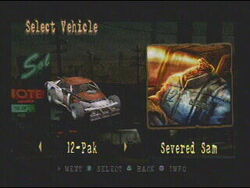 Twisted Metal: Lost
Edit
12-Pak was a new vehicle featured in Twisted Metal: Lost.
A prized stock car, which has the same stats as Spectre and his special weapon is similar to Roadkill's (from Twisted Metal: Black).
Driver: Severed Sam
Vehicle Type: Stock car
Special Weapon: Reticle: Hit the fire button once to activate a countdown. Hit the fire button again to release the missiles. A flaw occurs when shooting missiles. If you want to switch to another character, all the missiles you shoot will revert back to one.
This is the only vehicle in Twisted Metal: Lost to use a variation of the "Swarm Missiles" as his special.
This vehicle's Special is like Roadkill's in Twisted Metal: Black
12-Pak, Gold Tooth, Crazy 8, and Pit Viper are the only characters/vehicles to have been in only one Twisted Metal game, but this may not count since Twisted Metal Black 2 was cancelled, though a small portion of it was made playable in Twisted Metal Head On Extra Twisted Edition as Twisted Metal Lost.