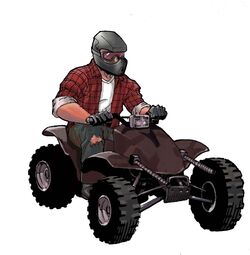 ATV
is a playable vehicle in
Twisted Metal: Head-On
. It has yet to appear in other games.
To unlock ATV, you must defeat Cousin Eddy in Story mode after first destroying 4 ATVs.
Vehicle
Driver: Gene Ruttish
Vehicle: Polaris Phoenix 200E 'ATV'
Special Weapon 1: ATV fires multiple bullets at its target. It is very weak.
Special Weapon 2: Gene will throw dynamite out of his coat pocket.
Ad blocker interference detected!
Wikia is a free-to-use site that makes money from advertising. We have a modified experience for viewers using ad blockers

Wikia is not accessible if you've made further modifications. Remove the custom ad blocker rule(s) and the page will load as expected.