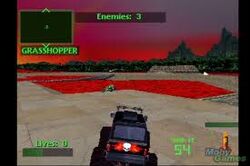 For other uses of "Amazonia," see Amazonia.
Amazonia: Fire Walk is the fourth level in Twisted Metal 2 (Amizonia: Fire Walk In Twisted Metal 2 Beta).
Long forgotten by the modern world, the Colombian ruins of the FIRE WALK are a true challenge for the belligerent motorist. Can you avoid the molten lava while causing the demise of 6 opponents? Not to mention the vengeance of Minion!
Music track:
Boss
In tournament mode, after defeating the 6 opponents at this level, the player then faces the sub-boss Minion, before moving on to New York. When playing on Easy, the game will end after defeating Minion.
Ad blocker interference detected!
Wikia is a free-to-use site that makes money from advertising. We have a modified experience for viewers using ad blockers

Wikia is not accessible if you've made further modifications. Remove the custom ad blocker rule(s) and the page will load as expected.