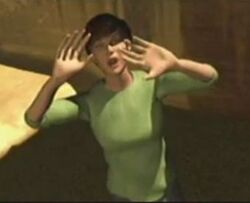 Annie Stillwell only appears in Twisted Metal: Black, as the wife of Billy Ray Stillwell.
Annie Stillwell was the unfaithful wife of Billy Ray Stillwell and a minor character in Twisted Metal: Black. She had brown hair and wore a green sweater with blue jeans.
Annie had planned with a pilot to kill her husband so they can be together and collect the life insurance. When Billy was attacked by the pilot in his airplane in an attempt to murder him with a deadly chemical that ended up only disfiguring him, he sought out assistance from Annie only to find her in the arms of the pilot and overhearing their plan. In a fit of rage, Billy repeatedly struck and killed her with a hoe for over an hour until her corpse was unrecognizable.
Ad blocker interference detected!
Wikia is a free-to-use site that makes money from advertising. We have a modified experience for viewers using ad blockers

Wikia is not accessible if you've made further modifications. Remove the custom ad blocker rule(s) and the page will load as expected.