Club Kid
Talk

0
264pages on
this wiki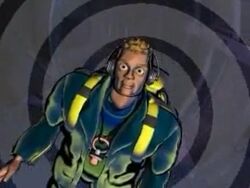 "Alright! Yes! A rave that lasts all night! Where's the mosh pit?"
—Club Kid, Twisted Metal 3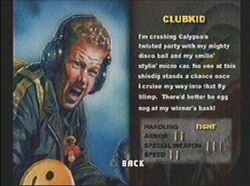 Club Kid is the ultimate raver who spends his nights partying and his mornings washing down cocktail weenie breakfasts with warm powdered milk. He usually wears the same clothes for weeks because when you're rushing from club to club, who really has the time to change? Club Kid drives a tiny, nimble micro car emblazoned with a misleading yellow happy faces on its hood. His vehicle sports a nifty weapon called the Vortex, a psychedelic whirlwind that sucks cars in and spits them out after it reaches terminal velocity. Club Kid thinks it's way cool Rob Zombie kicked in some tracks for Twisted Metal III.
Vehicle: Austin Mini / Club Kid
Driver: Club Kid
Info: Male
Age: 19
Born: London, England
"I'm crashing Calypso's twisted party with my mighty disco ball and my smilin' stylin' micro car. No one at this shindig stands a chance once I cruise my way into that fly blimp. There'd better be some egg nog at my winner's bash! See you at the Mosh Pit!"
Vehicle Type:
Micro Car
Handling: Tight
Armor: 2/5
Special Weapon: 3/5
Vortex: A psychedelic whirlwind that sucks cars in and spins them out after it reaches terminal velocity.
Speed: 2/5
Info and Ending:
There is a secret Level called "Club Kid's House" unlockable by inputting "Left-Left-Left-Square-Square" on the Password screen.
He only appears in Twisted Metal 3 along with Firestarter and Flower Power. Also, oddly, these 3 share the same amount of armor, special power, and handling.
Club Kid's real name is never revealed.
In Twisted Metal 3, Club Kid and Mr. Grimm are the only ones that don't scream in their endings.
Club Kid's vehicle is a Mini Cooper.
Club Kid is believed to have replaced Twister in Twisted Metal 3 as they have the same special.