Crusher
Talk

0
264pages on
this wiki
"Rise above the pain! Master the crane!"
—Construction Yard, where you fight Crusher in Twisted Metal 4
Crusher is a boss character from Twisted Metal 4. The vehicle is a crush scraper.
Twisted Metal 4
Edit
Crusher is a boss from Twisted Metal 4. He is playable after beating the game or through a code. It's driver is unknown. It serves as boss of the Construction Yard level.
Name: ???
Demeanor: Evil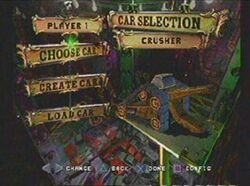 Type: Crusher
Handling: 3/5
Armor: 3/5
Speed: 2/5
Special Weapon: 3/5
Crusha: The vehicle crushes the cars in its massive jaws.
Crusher has a same "slam" style attack as the other construction vehicles: Mr. Slam, Auger, and Trash Man.
Crusher is the first original boss in Twisted Metal 4.