"This is gonna be one big-ass barbecue with no one left to kiss the COOK."
—Damien Coles, Twisted Metal III
Damien Coles is the driver of Firestarter. He makes his first and only appearance in Twisted Metal III.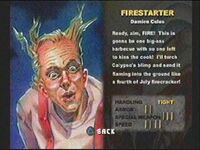 Damien is a total FREAK. In fact, he gives pyromaniacs everywhere a bad name. As a child, he torched his four-story house, the local middle school and the county fire station. This untreated deviant has also mastered the fine art of spontaneous combustion (Rumor has it he has lighter fluid coursing through his veins).
Info and Ending: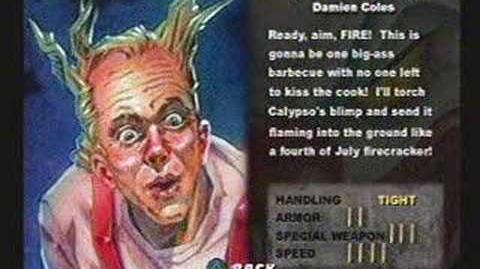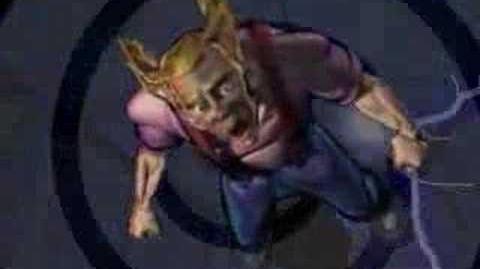 Trivia
Damien and his vehicle is most likely a reference to Keith Flint from the musical band known as The Prodigy, as well as The Prodigy's song titled "Firestarter". Damien's profile image also looks similar to one of The Prodigy's posters.
Damien's last name "Coles" is a play on the word "coals."
Damien's wish may have changed due to him realizing that if the blimp is torched to the ground, he may not get his wish.