"*Clears throat*"
—Dennis "Petunia" Flanders, Twisted Metal 4
Dennis "Petunia" Flanders is a contestant who made his first and so far only appearance in Twisted Metal 4. He has yet to appear in other Twisted Metal games. He is the driver of Drag Queen.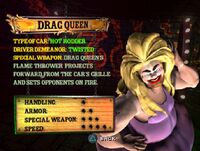 Info
It was tough growing up in Southern California. Dennis loves drag racing big block muscle cars with his pals. But he liked to do it while wearing a chiffon dress. Seeing him in a halter-top could turn anybody to stone, and eventually Flanders got kicked out of the Hot Rod Association. This child of the 60's is all grown up now but after years of therapy he's just the same. Dennis has two burning desires: kick butt in the Twisted Metal competition and headline an all-girl Vegas dance revue. While we're on the subject of burning, his funny car sports dual flame-throwers. By the way, that's Ms. Petunia to you.
"*Clears throat* This Twisted Metal thing just ain't for me, girlfriend! But if it means I'm going to finally reach my dream... you know I'd be more than happy to open up a fresh can of whoop-ass on some unsuspecting contestants! Anything to achieve my goal~ ❤"
Info and Ending:
Quotes
"Do you think that I'm sexy?
"Yeah, someone's favor.(?)"