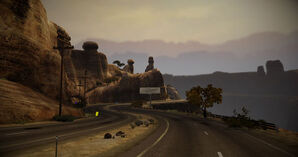 Located in the desert, this is the boss stage for Iron Maiden. It gets its name from the Spanish word for 'devil'. It is also featured as a race track, one of three used during story mode in Twisted Metal (2012), and is used as the battle ground for the Mean Dual Juggernauts DM.
Like in all racetracks, certain parts of the city are blocked off.
The map features a long suspension bridge at the center of the map, a hydro-electric dam, Twisted Rock national forest and a modern ghost town to the east.
Map Variations
Ghost Town Gulch- This is a medium sized variation, featuring the eastern ghost town, with a medium stretch of highway and canyon.
Dead Man's Crossing- Another medium variation, it features the suspension bridge and a long stretch of western winding highway road.
Trivia
The Hydro-Electric Dam can be destroyed. It will cause some water to flood out into the background, but does not effect the map. It is purely for show.
Pedestrians can still be found running around actively in Ghost Town Gulch, despite Calypso stating that the town was "long forgotten." This could imply the town became long forgotten after Calypso's Twisted Metal tournament. (He wouldn't have a tournament in an empty town).
Ad blocker interference detected!
Wikia is a free-to-use site that makes money from advertising. We have a modified experience for viewers using ad blockers

Wikia is not accessible if you've made further modifications. Remove the custom ad blocker rule(s) and the page will load as expected.