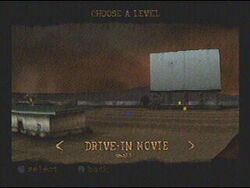 Drive-In Movie: Millenium Drive-In is a level in Twisted Metal: Black. It is a small level with hills, a large projection screen and a building that you can get on top of. You fight 8 enemies in this level, and due to its small size, it can be extremely difficult to successfully pass this stage.

Music tracks: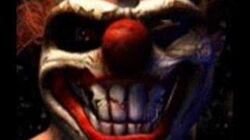 Secrets/Trivia
Unlocking Mini Suburbs: Kill 10 opponents on this level in Endurance Mode.

It's possible that this level is the same place as the main menu of the PS2 game War of the Monsters. They're both Drive-In Movie Theaters with a movie screen and another smaller building (where in War of the Monsters was the place where you can access the store, saved games and option) and because of the fact that the Twisted Metal franchise has had quite a few easter eggs related to the 3D Fighting Game.
Ad blocker interference detected!
Wikia is a free-to-use site that makes money from advertising. We have a modified experience for viewers using ad blockers

Wikia is not accessible if you've made further modifications. Remove the custom ad blocker rule(s) and the page will load as expected.