Granny Dread
Talk

0
311pages on
this wiki
"I'll run them out once and for all!"
—Granny Dread, Twisted Metal 3
Granny Dread is the driver of Hammerhead in Twisted Metal 3. She has yet to appear in any other Twisted Metal game since her debut.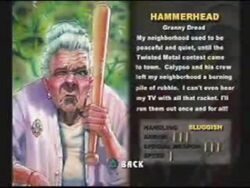 This little lady isn't fixing peach cobblers for her grandchildren, she's looking for revenge. The last Twisted Metal competition blazed through Granny Dread's neighborhood and left it smoldering rubble. She's anxious to restore the peace so she can watch daytime TV while she knits tight-fitting sweaters for her cuddly pit bull, Fang. Like most grandmothers, she drives a monster off-road vehicle that comes in handy when she needs to pick up her tea-sipping buddies for Bingo night.
Vehicle: Hammerhead
Info: Female
Age: 97
"My neighborhood used to be peaceful and quiet until the Twisted Metal contest came to town. Calypso and his crew left my neighborhood a burning rubble. I can't even hear my TV with all that racket. I'll run them out once and for all!"
Info and Ending: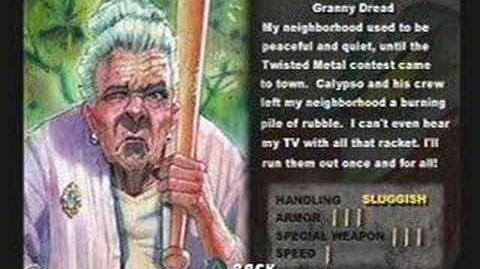 Early concept art for Twisted Metal 2 shows a portrait of an old woman named Granny Dark. This may have been the inspiration for Granny Dread.
So far, she is the only female driver of Hammerhead.
She is the second oldest known character and oldest female in the series, behind Captain Rogers, the driver of Warthog in Twisted Metal 2 and 3.