Lance Wilder
Talk

0
264pages on
this wiki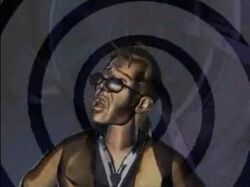 "There is plenty of me to go around!"
—Lance Wilder, Twisted Metal 3
Lance Wilder is the third driver of Spectre. He appears only in Twisted Metal 3, but is very similar to Ken Masters, the driver of Spectre in Twisted Metal 2.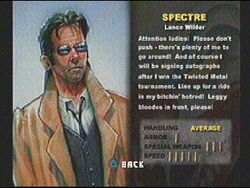 Lance is God's gift to women (or at least he thinks so). He cruises in the hottest car, wears the coolest clothes and sports the slickest shades. Lance is so obsessed with being famous that he's entered the Twisted Metal Tournament to make a name for himself. He may, however, be making a cameo on the obituary page if he can't stop admiring his reflection in the rear-view mirror.
Vehicle: Spectre
Info: Male
Age: 29
"Attention ladies! Please don't push- there is plenty of me to go around! And of course, I will be signing autographs after I win the Twisted Metal tournament. Line for a ride in my bitchin' hot rod! Leggy blondes in front, please!"
Wish: To be famous and on TV all of the time.
Info and Ending: