The Lost Endings are endings that were cut from Twisted Metal (1995). The scenes were to be shown at the completion of the single player campaign, but were cut for numerous reasons. Most notably, the campiness and cheesiness of the endings themselves, the sexism, the poor production quality, and the fact that all filming had finished before the game's name was changed to Twisted Metal from High Octane. Only three of the live actors are known; Charles Lance as Calypso, Robert Goodens as Needles & Charlie Kane, and David Koseruba as Mr. Ash.
Some of the text endings that made it into the final game kept the same script as the live-action endings, whereas others were changed. All of the Lost Endings can be seen in Twisted Metal: Head-On Extra Twisted Edition.
Endings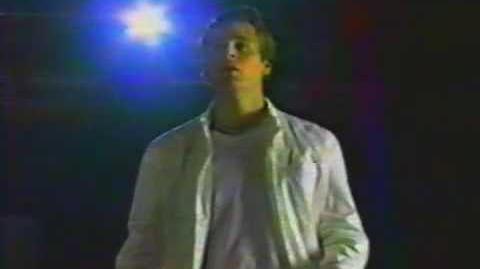 Trivia
Agent Stone is the only driver not to be seen in his ending, despite having a live-action actor pose for his selection screen portrait. Its most likely a nod to Ernst Blofeld, the sometimes-unseen nemesis of James Bond.
Angela Fortin and Scott Campbell died only in the Lost Endings, whereas in the Text Endings they live.
In some certain Lost Endings, you can see the main microphone from when they were filming the scenes. You can see it in plain sight in Agent Stone's ending, hanging over Calypso on his throne. Just look up at the ceiling.
Ad blocker interference detected!
Wikia is a free-to-use site that makes money from advertising. We have a modified experience for viewers using ad blockers

Wikia is not accessible if you've made further modifications. Remove the custom ad blocker rule(s) and the page will load as expected.