Meter Maid
Talk

0
268pages on
this wiki
Meter Maid is one of the characters designed only for Twisted Metal 4 and will probably not appear in another game. Although somewhat weak, she makes up for it with her special and her really flexible handling and speed.
Twisted Metal 4
Edit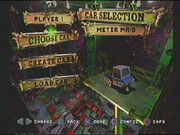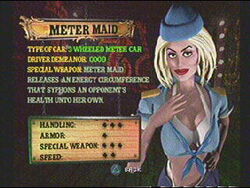 Driver: Zanita Corbett
Type: 3-Wheeled Meter Car
Handling: 3/5
Armor: 1/5
Speed: 2/5
Special: 3/5
Energy Ray: Meter Maid releases an energy circumference that siphons an opponent's health unto her own.
Her Special is a homage to Outlaw, who has the same Special(Except in Twisted Metal: Black).
Although her real name is not revealed in the game, the manual states her name is Zanita Corbett.
The name may be based off the Beatles song "Lovely Rita" which includes the words Lovely Rita Meter Maid.