Micro Blast
Talk

0
268pages on
this wiki
"Arrgh! Enough already!"
-Micro Blast, Twisted Metal 4
Micro Blast is a contestant from Twisted Metal 4. His vehicle is a wind-up toy car which Special Weapon involves firing a powerful variation of Speed Missiles from the gatling gun located on the front of the car. His vehicle has a poor armor rating, but decent handling.
Twisted Metal 4
Edit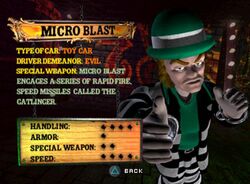 Name: Micro Blast
Demeanor: Evil
"It is time to show the world who truly is her master! After this tournament, I shall be overlooking any more. Why, I'll be up in the sky. It'll be me for sure who will be overlooking all these poor souls below me!"
Type: Toy Car
Handling: 4/5
Armor: 1/5
Speed: 4/5
Special Weapon: 2/5
Gatlinger: Micro Blast engages a series of rapid fire speed missiles.
Info and Ending:
Micro Blast desired to be a giant, which Sweet Tooth granted happily, though they insulted Microbalst's size. It shows Micro Blast rampaging through the streets and is turned into a statue. You can see a message below saying, "Here stands Micro Blast."
He is a leprechaun.
Though he is a leprechaun, his toy car appears to be red. Some people would believe that leprechauns could drive toy cars.
His Special are like Speed Missiles, making it weak but faster.