Moon Buggy
Talk

0
264pages on
this wiki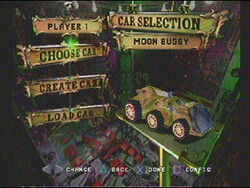 Moon Buggy is a boss vehicle from Twisted Metal 4. It has yet to appear in any other games.
Twisted Metal 4
Edit
Moon Buggy is the second boss of Twisted Metal 4, in the Neon City level. He is playable after beating the game or through a code. It's driver is unknown.
Quasars: Fires an electric wired orb that entagles and electrifies the target (similar to Sweet Tooth's special). It has a limited range and will explode when the cycle completes.
Moon Buggy's Special Weapn is similar to Sweet Tooth's Special in the game, but is far less powerful.
Due to its futuristic, un-earthly appearance, some speculate Moon Buggy to be Quatro's other base vehicle if his bike were to be destroyed.