Mortimer
Talk

0
264pages on
this wiki
"Calypso, I am so very tired..."
—Mortimer Scharf, Twisted Metal: Head-On
Mortimer Scharf is a recurring character in the Twisted Metal series. In his appearances, he is the driver of Shadow.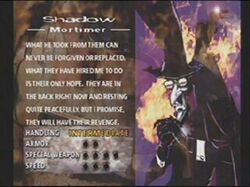 A keeper of lost souls, Mortimer helps those who met an untimely death get revenge on their killers. But this year, he's carrying a very strange cargo that will not rest until Calypso has been taken out.
Vehicle: Shadow
Info: Male
Age: unknown age
Born: 6 feet under
"What he took from them can never be forgiven or replaced. What they have hired me to do is their only hope, they are in the back right now and resting quite peacefully, but I promise, they will have their revenge."
Wish: To get revenge on Calypso.
Voice actor: Bob Ayres
Calypso offers Mortimer the prize of granting one wish, but Mortimer turns down the offer and tells him that he brought a "gift". Calypso is shocked and demands to see it. With this, Mortimer turns a latch to open the trunk of Shadow and out of it comes the souls of those who died in Twisted Metal. Mortimer explains that they were those who were killed when the drivers spread their chaos and destruction and that they hired Mortimer to compete in the contest so that they could have their revenge. The souls then carry Calypso into the sky. Claypso explains that numorous rumors that have circulated questioning Calypso's fate, but it is revealed that he escaped from the vengeful spirits by quickly grabbing on to a nearby plane wing. Calypso peers inside and thanks a small boy for playing Twisted Metal.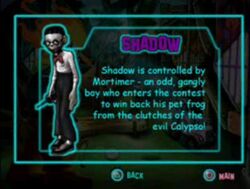 Mortimer is more concerned with solving math problems and performing science experiments than playing with the other kids. So it's not surprising that when Calypso steals his pet frog, Mortimer "willingly" enters the contest to win him back.
Vehicle: Shadow
Wish: To gain back his pet frog.
Ending: Calypso tells Mortimer that he can have his frog back, and that it was making so much noise that he could not go inside the shed in which he kept it in. Mortimer cryptically explains that it is common with frogs that are exposed with radiation and tells Calypso "on second thought, you can keep the frog," before quickly fleeing the scene shouting "victory!" Calypso, who is confused by what Mortimer meant, turns around when the shed behind him starts to violently shake. The shed collapses, revealing the frog has mutated to a gargantous size. Calypso only has time to scream before the frog lashes out its tongue and swallows him whole.
Mortimer returns with a simple wish of going back to sleep after being woken up by some drunk punks who read the epitaph engraved n his headstone seeing if it was true.
Info
Veichle: Shadow
Gender: Male
Age: Long Dead
Wish: To return to his eternal slumber
Ending: Mortimer tells Calypso that he is very tired. Calypso is unsurprised and tells him that he "shouldn't be awake". Calypso asks Mortimer who disturbed his slumber and Mortimer explains that a group of teens dug his grave up after reading his epitaph to see if he is "gone but not forgotten". Mortimer awakes and the kids immedietely flee the scene, and Mortimer tells Calypso that he has not been able to sleep after that. Calypso asks him if he would like the take revenge on those who woke him up, but Mortimer explains that all he wants is to just go back to sleep. Calypso grants the wish and the pair are now at a graveyard, Mortimer is inside his coffin with a teddy bear. After Mortimer states that he is "very comfy" Calypso opens a book and tells him a story about a man named Mortimer who won a tournament called Twisted Metal using a vehicle named Shadow. When Calypso finishes his tale, Mortimer falls asleep. With Mortimer's crow on his shoulder, Calypso closes his casket, laying him to rest.