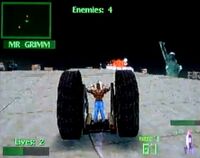 New York: The Big Leap is the fifth level in Twisted Metal 2.
Don't look down! Knock 6 enemies off New York's famous skyline. Make THE BIG LEAP and battle your way into office buildings and hotel lobbies. Avoid sightseeing or you'll have more than your name on Broadway.
Music track:
You will fight on the snow covered streets of Metro Square. You can ram through buildings, destroy Santa and/or the statue of liberty, and race through subway stations in a Time Square during Christmas based map.
Trivia
A cheat code can be found here, but only by sacrificing yourself. It is located in the middle of level, and you must fall in order to see it. It is the code to unlock Sweet Tooth.

You can shoot the Statue Of Liberty to reveal a hidden sculpture of a fat or skinny woman in a red bikini, which if shot again, it will be destroyed.
Ad blocker interference detected!
Wikia is a free-to-use site that makes money from advertising. We have a modified experience for viewers using ad blockers

Wikia is not accessible if you've made further modifications. Remove the custom ad blocker rule(s) and the page will load as expected.