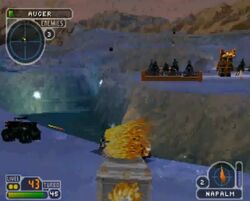 "You do believe in Santa don't you? Let's say you drop by, and put the fat guy out of business for good! Watch out for that.. missile-toe."
North Pole is the fourth level in Twisted Metal III.
Twisted Metal III
Destroy some elf igloos and plow down snowmen, but don't expect anything under your Christmas tree this year except reindeer dung. The jolly fat man won't be so jolly once he hears that you've totaled his workshop with your explosive toys. He should be thankful you didn't get ahold of his reins.
Ad blocker interference detected!
Wikia is a free-to-use site that makes money from advertising. We have a modified experience for viewers using ad blockers

Wikia is not accessible if you've made further modifications. Remove the custom ad blocker rule(s) and the page will load as expected.