Orbital
Talk

0
268pages on
this wiki
"I just want to be normal again. I don't want to be the only one on the planet with only half a face." -Orbital, Twisted Metal 4
Orbital is a contestant in Twisted Metal 4. He has yet to appear in other Twisted Metal games. The character is a British spy similar to Crimson Fury; it may be possible that Orbital took over its position in Twisted Metal 4.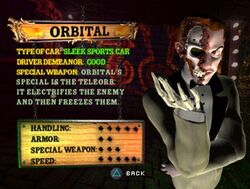 Name:
Demeanor: Good
"I am not seeking revenge. All I want is to be like everyone else. I just want to be able to lead a normal life like the next man."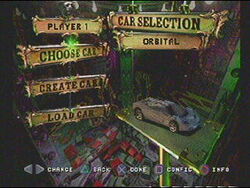 Type: Sleek Sports Car
Handling: 5/5
Armor: 2/5
Speed: 5/5
Special Weapon: 3/5
Teleorb: Fires a blue orb which pulls enemies close to its center, similar to Mr. Zombie's Special. When the orb detonates, anyone caught within its blast radius will be frozen. This weapon does not deal any damage.

Info and Ending:
His face is a homage to Harvey Dent (AKA Two-face) of the Batman series.
He shares similarity to Crimson Fury (and the driver), i.e. both drivers are british spies and drive a sports car. Because of these similarities, it could be assumed that Crimson Fury had been replaced by Orbital.
His car is a McLaren F1.