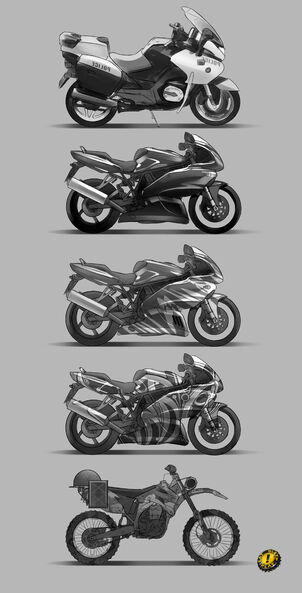 The PaleRider is a cancelled vehicle from Twisted Metal (2012).
According to 3dnomad.com, PaleRider was a motorcycle. PaleRider may have been similar to the Reaper.
Trivia
It can be assumed that PaleRider may have been a sports bike type of motorcycle or a dirt bike to try and separate itself from Reaper.
Some of the concepts of PaleRider seems strikingly similar to the bike used for the billboard ads in Dollface's storyline.
The name PaleRider may be a reference to the entity Death; more specifically, his interpretation in the Bible. There, Death is depicted as the fourth and final Horseman of the Apocalypse, a harbinger of judgement who rode on a pale horse. This could further the idea that PaleRider may have been the original concept for Reaper, since Mr. Grimm and several of his incarnations are supposed to be the Grim Reaper, who is also known as Death. Horse is also sometimes used a term to describe motorcycles.
Ad blocker interference detected!
Wikia is a free-to-use site that makes money from advertising. We have a modified experience for viewers using ad blockers

Wikia is not accessible if you've made further modifications. Remove the custom ad blocker rule(s) and the page will load as expected.