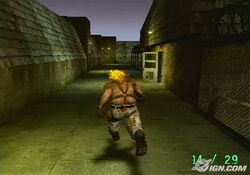 Sweet Tour (sometimes referred to as Sweet Tour 3D) is a special mode featured in Twisted Metal: Head-On. This mode was originally going to be featured in the canceled game Twisted Metal: Black 2: Harbour City. However, the game never made it out, and the mode was shipped as part of the Twisted Metal: Lost extras.
Features
There are several features in this mode. The most feature noted is the ability to walk around outside of vehicles as Needles Kane. In this mode you are able to tour areas around an Asylum (presumed to be the Asylum from Twisted Metal: Black) that contain memorabilia from previous games.
You are able to look inside vehicles left open on display, take a closer look at some vehicles, and learn background history about other characters. During this mode it was noted by David Jaffe that a coding skip obstructs it where on occasion Needles will have his knife in hand; othertimes he will be palming something, but have nothing in his hand.
Ad blocker interference detected!
Wikia is a free-to-use site that makes money from advertising. We have a modified experience for viewers using ad blockers

Wikia is not accessible if you've made further modifications. Remove the custom ad blocker rule(s) and the page will load as expected.