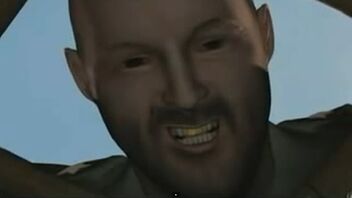 The Advisor is non-playable character in Twisted Metal: Black. He appears only in Mr. Grimm's story mode, and from his namesake, he is/was an advisor to the Vietnamese.
When Mr. Grimm and Benny were captured in the field of battle by the enemy, they were incarcerated in a hole 50 feet below the ground, where they are encountered by the Advisor a few days later. The Advisor's favorite type of torture is starvation. Laughing, he then throws a knife into the hole with Grimm and Benny. Grimm knew what the Advisor wanted him to do, and initally refused to. Two days later, Benny died, and as a result of starvation, Mr. Grimm used the same knife the Advisor gave to him to hack and consume his deceased friend's corpse. From that point on, he used Benny's skull as a helmet.
Eventually, Mr. Grimm was found by US Soldiers who came to rescue him, but when they ordered him to remove the skull from his head, he killed four of them before he was taken down. He was then put in Blackfield Asylum for 30 years. One day, a mysterious man known only as Calypso gives him an offer; win the Twisted Metal contest and he will bring the Advisor to him. Grimm accepts.
In Mr. Grimm's ending, The Advisor is shown tied up with duct tape around his mouth. Calypso adds one more thing to his prize; an axe, which Grimm uses to kill the Advisor with and eventually eat him.
Trivia
It is strange to note that the Advisor looks exactly the same when Mr. Grimm sees him again, as he did 30 years ago. It's possible that Calypso made him younger so Mr. Grimm would recognize him.