Trash Man
Talk

0
264pages on
this wiki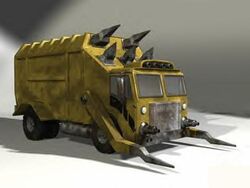 "Me happy for the day! Me wish for place of trash!"
-Trash Man, Twisted Metal 4
Trash Man is a garbage man contestant from Twisted Metal 4. He has yet to appear in other games.
Twisted Metal 4
Edit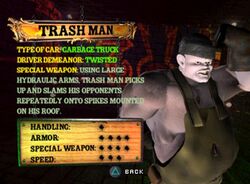 Name:
Demeanor: Twisted
"Trash is my kingdom! This is what my pets need to survive. When I win this tournament, I will turn the world into a playground for all my pets!"
Type: Garbage Truck
Handling: 1/5
Armor: 4/5
Speed: 3/5
Special Weapon: 4/5
Lifter: Using large hydraulic arms, Trash Man picks up and slams his opponents repeatedly onto the spikes mounted on his roof.
Info and Ending:
Trash Man wishess to live in a world filled with garbage. Sweet Tooth grants the wish by shrinking him and placing him in a garbage can. You can see someone watching over him.
It's unknown what pets Trashman has. It seems it would be rats.