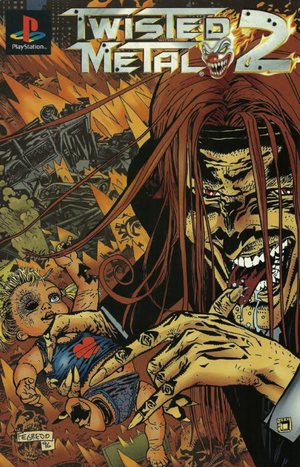 The Twisted Metal 2 Comic is a 16 page comic book that was released in 1996 as a tie-in with Twisted Metal 2. It centers around Calypso and his backstory. It was licensed by Sony and published by DC Comics.
History
Only 100 copies were ever printed, and they were subsequently given out as prizes for a contest held by Sony's Tips & Tricks department around the time of Twisted Metal 2's release. Only 50 contestants had won, so the remaining 50 copies were either given to fans who wrote in requesting a copy, or were presumably destroyed. Due to the extreme rarity of this item, it is considered one of the most valuable pieces of Twisted Metal history, and to be of "Holy Grail" status by fans. It is also considered to be canon, as it was written in conjunction with Twisted Metal 2.
Story
Pages
Ad blocker interference detected!
Wikia is a free-to-use site that makes money from advertising. We have a modified experience for viewers using ad blockers

Wikia is not accessible if you've made further modifications. Remove the custom ad blocker rule(s) and the page will load as expected.